10.13 Slowly pull down on the winding bar until the garage door rises 3" and the roller hits the vise grip on the track. The door will usually drop back down and raise the bar. If it doesn't, lift the end of the bar until the door closes. If the door comes up by itself when you hold the bar lightly, the springs are either over wound or they are too strong. You may need to remove 1/4 to 1/2 turns from the springs. If the door comes up on its own, you either have to many turns on the springs or you have the wrong springs. This can be very dangerous. We recommend getting professional help. Removing the winding bar could cause the garage door to knock you off the ladder.
Rolling sectional overhead garage door spring replacement should cost somewhere between $195 to $300 for a quality set springs (50000 cycle rating). This price will very if the garage door repair company charges a service call fee (trip charge). The most important thing to consider along with price is the quality of the springs and the warranty. There are any company that we use lower or mid quality springs and charge on the higher end because they include a lifetime warranty on the springs. The catch is that this warranty will only covers the spring for life and labor only for 30 days to a year. Look for a company that offers a equal parts and labor warranty. This insures that the warranty represents the rating of the springs that are being installed. For instants, you may buy a 1500 cycle rated spring set (last 3 years +or-) for $200 with a lifetime warranty and 1 year on labor. When a spring brakes after 3 year the spring its self is covered but the labor cost to replace the warranty spring can be between $65 to $100. This can add up over the year as the warranty will not restart at the time of the warranty replacement. On the offer hand, if you purchase a set of springs rated at 50000 cycles (last 10 year +or-) for $270 with a 10 year parts and labor warranty and a spring brakes in 8 years it would be replace at $0 cost. A must batter value! Always check service company review and get the details on the quality of springs a garage door repair company uses and the warranty, part and "labor".
There are several retailers that sell garage door springs and their parts. Local hardware stores often carry a selection of lubricants, torsion conversion kits, safety cables, ball bearings and extension springs. Another option is a garage door supply company or an online retailer that will usually offer a more extensive inventory. These retailers sell everything from lubricant to torsion-spring conversion kits and garage door tools. They also tend to offer information to their customers and help them locate the parts they need and understand how to complete a specific repair.
You may enter your information on this website, visit an in store associate or call our garage door repair team at the number at the top of this page. Within 24 hours you will receive a call from a local service provider to discuss your requested service. Afterwards, you will schedule a date and time for the service provider to come to your property.
1. Garage door springs do almost all of the work of lifting your door regardless of the door being manually or automatically operated. The spring makes it possible for anyone to lift a product that might weigh one hundred pounds on the low end and many hundreds of pounds on the high end. Not only can anyone lift it – most can do it with one hand! In other words, the garage door spring does a lot of work.
Garage Door Repair Centennial Colorado 80015
Warning! If the door is partially open and crooked, don't touch it. Period. It's a sign your door is off balance, and it's usually caused by a problematic cable. It's likely the door is still under tension from the spring, and one false move could send a 150-pound door crashing down, causing damage or injury, says Vincent Johnson, owner of Garage Door Doctor of Cypress, Texas. https://www.youtube.com/v/Z_eZc-kh40c&feature=youtube_gdata
Received all items as indicated, I would recommend purchasing a metal center bearing also, other Than the plastic that this comes with. Install was easy and strait forward. hardest part was finding how many turns to tighten those springs?? I used a general rule of thumb of a full turn for every ft. Of door. 4 quarter turns equals 1 full turn. I found that 26 balanced the door perfectly. These springs seem a little smaller than what was there however, the coil itself is the same. (Pic) After installing, I recommend oiling the springs with some motor oil. This will help with rust and noise. Good luck with yours, it's worth the work for the saving!!
Garage Door Repair Companies Centennial Colorado 80016
Step 2: Check the tracks with a level to make sure they're properly aligned. Horizontal tracks should slant slightly down toward the back of the garage; with roll-up doors, the vertical sections of track should be exactly plumb. Both tracks must be at the same height on the garage walls. If the tracks are not properly aligned, loosen but do not remove the screws or bolts that hold the mounting brackets, and tap the tracks carefully into position. Recheck the tracks with the level to make sure they're in the right position; then tighten the screws or bolts at the mounting brackets.
Garage Door Repair Average Cost Centennial 80016
Quite a few garage doors come with manual locks, especially older models, for added security for your house. These typically look like a knob or handle in the middle of your door with two bars running horizontally from each side. There may be a small button on the top or side of the handle that you can press to slide the bars across the doors, thus locking the garage door from the inside. It can be somewhat easy to accidentally hit that button, especially if you're getting large objects out of the trunk of your car near the door.
As mentioned in issue #2, garage doors are designed with a reversing mechanism that prevents them from crushing objects in their path. If you find that your garage door closes part way and then goes back up, this can be triggered by objects on the ground blocking their path such as garbage cans or toys. It could also be caused by a buildup of debris on the tracks that prevents the rollers from moving forward. This could include small items like rocks, gum or mud buildup. If the door hits even a small object on the track, it will go back up to avoid crushing whatever is underneath it.

Garage Door Repair Average Cost Centennial Co 80016
Both types of springs are _loaded_, or under tension, when the door is closed. This gives them stored energy to help lift the door as it's being opened. When the door is all the way up, the springs are relaxed, or relatively so—they still may be under some tension. The mechanical difference between extension and torsion springs is that extension springs are loaded by stretching, or elongating, while torsion springs are loaded by twisting, creating torque. Garage Door Repair Emergency Centennial Colorado
I purchased a garage door and opener and had HD install it. It was around $3600 and when the price increased by about $800 I called right away to pay it with no delay (these are all estimates written from memory). Anyway, I I bought the garage so that the front of the house would be prettier and it is but the old garage worked fine and I don't even have a car in it so I don't open and close it all and it actually only gets opened 2-3 times a month when a friend who stores their car there uses it. However, soon after the garage was installed, this friend told me the garage was working intermittently. When I called HD to come look at it, they said I would have to pay around $85 to have it looked at which didn't make sense to me since it was brand new and almost immediately not working so it was likely a problem with the product or installation. HD would not provide immediate assistance to fix the problem, they insisted other steps which were unreasonable given it was a new garage and this request added great difficulty for me. Five months later after this back and forth calling to have someone from HD to just come and fix it, I went into the Huntington Beach store, spoke with Ryan who was polite and with little to say, he said I'll put you on the list for an appointment and they will call in 24-48 to book a day and time. I was thankful. I also expressed my concern that I would not be charged for this visit and he said no unless it wasn't covered under warranty. Two days later the installer called and said it will cost to around $95 just to show up. They arrived later that week, charged $95 and fixed the problem with no additional fee. If the garage was being used the way most garages are used and it was out of warranty, I could understand for a fee to cone out and look at it but because it stopped working almost Immediately and all the fuss and delay to have it fixed by HD was disappointing. When you gave me a quote then raised it by 20%% I paid immediately and without hesitation but this service was not reciprocated. I may have multiple projects at multiple sites but even if that weren't the case, I would hope you would keep up your good costumer service history otherwise, your competitors willl slowly be better. Kindly return the fee charged for this service. Read less
Gather the supplies and tools needed for changing the springs safely. In addition to the torsion springs you'll need a minimum of one or two 10" vise grips, an adjustable wrench, and two 1/2" X 18" winding bars. Most hardware stores sell 1/2" X 36" steel rods that can be cut in half. You'll also need a firm ladder and a rag for cleaning your hands. A ruler and a file may also be necessary; a socket wrench and sockets would shorten the time required. Finally, make sure your garage is lighted well.
If you use the correct tools and follow our instructions, you can rebuild the entire torsion spring system in just a few hours, without any side trips to the ER. We won't cover how to replace garage door extension spring systems in this story. But we'll show you garage door spring replacement on the more common torsion springs, the kind that mount on a bar above the garage door.
9.9 Go to the other side of the garage door and insert the end of the cable into the drum. Rotate the drum until the cable is tight. Slide the drum against the bearing and push the shaft to the right. The marks should line up. If they don't, figure out why and correct the problem. It could be a stuck cable, the garage floor may have shifted, or the vertical angle that helps support the bearing plate may have loosened and shifted. Many garage doors have been installed with a gap between a drum and a bearing plate. The cable drums should always be flush against the race of the bearings.
Lower the door and dismantle it by removing the hardware. Lower a double door by recruiting at least two helpers to help with the weight, and place a 2×4 block under the door to prevent smashing a foot or finger when it's lowered. Remove the sections one at a time by disconnecting the rollers and brackets. If you have windows, tape them to help control flying shards if they break. Then remove the old roller tracks and remaining hardware.
Garage door springs don't require extensive care and maintenance. However, they also can't be left entirely to their own devices. Spraying the springs with WD-40 is a good place to start. It's also a good idea to check the balance of the garage door every year. To do this, simply lift the garage door up about halfway and let go. If the springs are in good working condition, the door should remain still. If the springs are beginning to weaken, the door might sag or fall. By taking these basic steps, you can preserve your door springs for longer.
Finally, we also carry any and every residential garage door product that you need to have a state-of-the-art, secure and safe garage door. We are proud certified dealers of Clopay doors, the most durable and versatile doors on the market. With over fifty years of garage door manufacturing experience, you can trust Clopay quality, just as you can trust our team to install these highest-quality doors.
Automatic Garage Door Repair Centennial Co 80016
Noisy garage doors cause all kinds of problems, especially for anyone who has to sleep above or next to the garage. Fortunately, most noisy garage doors can be fixed with a combination of routine maintenance and the replacement of a few parts. If the basic maintenance tips described above don't quiet a noisy garage door, it's possible that the door's hinges need to be replaced.
While you may be able to increase efficiency by replacing the weather stripping at the bottom of an old garage door, the kind of insulation and energy efficient materials used in today's new doors will make a drastic improvement on your garage's energy efficiency. Just like the way a new garage door recoups its costs in increased home value, a new door will also quickly pay for itself in energy savings!
A garage door that has a broken spring has nothing to support its weight. The size of the door and the type of spring system determines how difficult opening the door will be. A garage door should not be opened until the spring is repaired. However, when you need to get your car out of the garage, it may be necessary if you cannot wait for the repairman. Use extreme care when opening a garage door in this manner.
I called A1 Garage Door Service at 10:45am when I discovered my garage door was not working. I was given an arrival window of 12-2pm, and Technician Daniel arrived to my home at noon! That was amazing, and is not typical customer service today! Daniel was very knowledgeable and personable. I enjoyed talking with him, and appreciated how he worked with me. I never felt like Daniel was trying to rip me off. He explained all of my options very clearly. I will not hesitate to call A1 Garage Service for any future needs.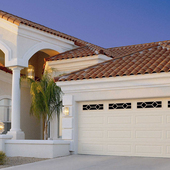 We are proud of the work we do in Northwestern North Carolina. We love this community and we love serving it. So whether you think you need a small repair or a major overhaul, we want to be the team that helps you increase the value of your home while making it a safer place to live for you and your family. Our professional and friendly sales team are eager to connect with you, so contact us today and find out just how we can ease your concerns and make transform your garage!

Garage Door Repair Free Estimate Near Me Centennial 80016
Once you've decided it's time to replace your garage door — whether the result of malfunctions or just seeking to modernize your home's exteriors — you may be wondering how much a garage door replacement costs. While these numbers are often determined by several factors, including the materials and labor involved, on average, a garage door replacement can cost just over $1,000 but could range from about $300 to over $2,000.

Test the door balance. A garage door should require only a few pounds of pressure to move it up and down. If springs wear out and lose their resiliency, a power garage door opener may need to work extra hard to lift the door. This can quickly wear out the motor on the opener. Replacing worn-out springs is usually a job for a professional technician.
With Garage Door Doctor, you can rest assured we will replace your springs correctly. We offer 2 types of springs – standard and high cycle. On a 7 foot tall door, our standard torsion springs will last 15,000 cycles and our high cycle torsion springs will last 50,000 cycles. How many years will this last you? That is based off only one thing – usage. For example, with standard torsion spring, if you use your door 4 times a day, you get just over 10 years of life. However, if you use your door 8 times a day, you would get just over 5 years of life. If you use door very little or if you are moving very soon, maybe standard springs would be best for you. If you use your door many times a day or if you don't plan on moving for a while, high cycle springs would be best for you. Getting high cycle springs will ensure you won't be stuck with a broken spring for many years to come. Either way, both types of torsion springs we offer work great – its just a matter of when the break again. Call Garage Door Doctor today to have your garage fixed properly!
Torsion-spring doors have a drum-like pulley at each end of the metal rod that runs through the springs. Each pulley has a cable attached to the bottom of the door. The springs and pulleys are fixed to the rod so they all rotate together. When the door closes, the rod turns and winds up the springs, creating tension. When the door opens, the springs release the tension and turn the rod in the opposite direction.
Started in 2004, Aladdin Garage Doors has become known nationwide as the trusted source for garage doors, repairs, and fast, efficient service. With a mission focused on delivering outstanding customer care, we're proud to offer garage doors that lead the industry in quality, value, and lifetime protection for homes and businesses. Whatever your garage door needs may be, you can count on Aladdin Garage Doors to offer:
First, make sure your transmitter isn't stuck under something that could be pressing on the button. For example, your transmitter may have fallen under your car seat and the button is accidentally being pushed by something heavy rolling around on your floor. If that's not the case, you may also need to check your transmitter's frequency. It's possible your neighbors could be running their garage doors on the same frequency as yours, and as they drive by, they're opening their garage door along with yours.